In India, luxury trains are the most convenient and luxurious mode of transport. These trains provide experiences unlike any other, with world-class food, luxurious accommodations, and exceptional service. If you're seeking a memorable way to travel to India, luxury trains in India are a must.
These India's top luxury train journeys India cater to travelers seeking to discover the country's vast cultural history with luxury. Their magnificence is evident in their mind-boggling décor, a regal ambiance, exquisite culinary cuisine, and tight security systems, to name a few.
These trains provide unmatched comfort inside and enable tourists to visit some of India's most renowned tourist attractions. Take one of these best luxury trains in India to discover India in otherwise impossible ways.
Let us look at some of the luxury trains you can choose for luxury India tours.
Top Five Luxury Trains In India For An Unforgettable India Tour
1. Maharaja Express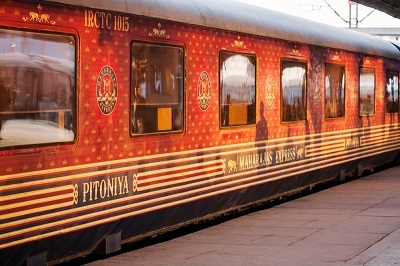 The Maharaja Express is operated and managed by the IRCTC. Starting in 2010, this most luxurious train in India has run on five routes across India.
The Maharajas' Express has all the modern amenities that one would expect from a luxury train. Further, the Maharajas' Express offers a once-in-a-lifetime experience that allows passengers to travel in luxury and style while taking in the sights and sounds of India.
Further, the train has several facilities for the passengers, such as laundry, electricity, valet, and 24-hour room service. Additionally, the train offers several sightseeing and excursion tours for the passengers.
Moreover, being among the luxury trains in India, all cabins feature a bathroom, LCD TV, wardrobe, Internet facility, etc.
The Heritage of India
The Indian Panorama
Indian Splendour
Gems of India
Treasures of India
So, the Maharajas' Express runs on five separate itineraries, as listed above, between October and April.
Indian Splendour and The Indian Panorama – 8 days and INR 4,00,660 (approx) each
Heritage of India – 8 days and INR 4,58,280 approx each
Gems of India and Treasures of India – 4-day and INR 2,57,950 (approx) each
2. The Deccan Odyssey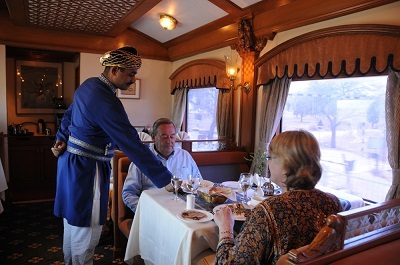 Furthermore, these luxury train tour in India takes you to stunning locations in India inspired by the travel style of emperors and Kings throughout various regal periods of past India. Additionally, it is one of the top luxury trains in India and around the world.
Further, the train features the best treatment for passengers, a luxurious cabin and multi-cuisine restaurants bar, a meeting vehicle with a spa, and many state-of-the-art facilities. The accommodations on the Deccan Odyssey are divided into two categories.
Additionally, the train features twelve coaches, each with modern furnishings, a private lock, a telephone, remote-controlled air conditioners, a television, and Wi-Fi.
Additionally, each passenger can access assistance 24/7, 7 days a week, and every coach is outfitted with an assigned butler. Moreover, experts and professional masseurs administer the spa, and many traditional therapy types, Ayurvedic therapies, specialty massages, and far more are available.
So, the tour itinerary involves:
Maharashtra Splendor
Hidden Treasures of Gujarat
Maharashtra Wild Trail
Jewels of the Deccan
Indian Odyssey
Mentioning the costs, the pricing is:
For foreign travelers: US$5,810 + 4.5% Service tax
For Indian travelers: INR 3,71,900 + 4.5% Service tax
3. The Golden Chariot
The Golden Chariot is among India's most luxurious train services that take passengers to some of the nation's most popular tourist spots. This Golden Chariot is noted for its outstanding service. So, the train features AC cabins decorated in regal style bars. These restaurants offer various dishes, a small gym, an Ayurvedic spa, and other five-star facilities. Furthermore, the facilities provided by this Golden Chariot are similar to those offered by an expensive hotel.
Further, this luxury train has a variety of contemporary amenities, including spacious accommodations, multi-cuisine restaurants, a laid-back lounge, a cutting-edge conference car, and a relaxing health spa.
You have the option of availing yourself either:
Southern Splendour: Starting from Bangalore and covers Chennai, Mahabalipuram, Pondicherry, Thanjavur, Madurai, Thiruvananthapuram, and then Alleppey, Kochi, and finally Bangalore.
Pride of the South: The journey commences from Bangalore, Kabini, Mysore, then Hassan, Hampi, Badami, then Goa, and finally at Bangalore.
So, the train operates from October to March, with both routes lasting seven nights and eight days.
The Pride of the South tariff per cabin on a double sharing is:
US$8,260 + 4.5 percent service tax for foreign tourists
INR 3,08,000 + 4.5 percent service tax for Indian passengers
Southern Splendour's starting prices per cabin, based on twin sharing:
For visitors from other countries: A service tax of 4.5 percent to the total price of $9,130.
For Indian visitors: Service tax of 4.5 percent + INR 3,50,000
4. The Royal Orient Train
Enjoy a luxurious experience with the Royal Orient Train and have an unforgettable trip to some of the top tourist destinations in the luxury trains that travel through India.
The Royal Orient Train offers spacious, comfortable accommodations, well-trained catering experts, multi-cuisine dining with the "Watering Hole" Bar, huge bathrooms, a library, and practically all amenities that spring to mind when thinking of a 5-star hotel.
Further, the Royal Orient Train travels throughout the year and takes seven nights and eight days to complete.
Note : Click
From October through March, these are the rates for a cabin per person for a single night on twin sharing basis::
US$200 + 4.5 percent service tax for overseas tourists
INR 7,480 + 4.5 percent service tax for Indian visitors
From April to September, these are the rates for the first cabin per person per night based on twin sharing:
US$150 + 4.5 percent service tax for foreign tourists
5. The Fairy Queen Express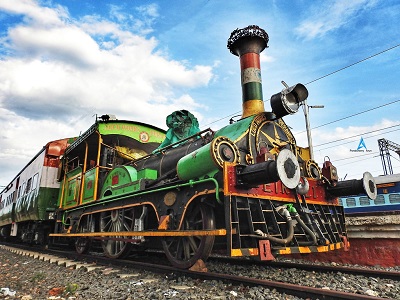 The Fairy Queen Express is among India's oldest trains for premium rail travel. Further, Fairy Queen has its allure as it prattles throughout Rajasthan, fueled by the oldest operating steam engine, constructed about 1855. Fairy Queen effectively makes it to the among most luxury trains in India.
It takes place on the 2nd and 4th Saturdays from October to March. Also, the trip will take one night and two days.
Starting prices for a comprehensive package (two-way train ride + sightseeing / one-night stay in Sariska for an adult):
INR 8,600 + Service Taxes/Government Taxes
Final Say
So to experience the best of India, it is a great idea to consider one of these best luxury trains in India. Further, these luxurious experiences will be a lifetime memory. Moreover, please visit the official website for the exact price of luxury trains in India.